For those who like an active vacation and enjoy visiting more than one destination during their holiday, a rental car and the right company are a winning combination. Apart from the beautiful Croatian coast, well known to most, the neighboring countries also have a lot to offer. Montenegro has been developing its tourism for years, as has the Bosnian trump card Neum, and they are still cheaper than the offer in Croatia. This year, they were joined by Albania, which has proved to be a hit destination with an ideal combination of low prices and the crystal-clear sea with kilometers of sandy beaches. If you want to get away from the beach, Macedonia and Serbia offer holidays in the mountains and by the lakes.
ORYX Rent a car enables you to visit all these places, although they are not part of the EU, by paying the so-called cross-border fee. It amounts to 425 Kunas (around 67 US dollars) and is paid if the border of any of these countries is crossed, whether in transit or to reach your destination in the country itself. The good news is that the fee does not change regardless of the duration of the trip and the number of countries you plan to visit. Indeed, you could potentially, and ideally, go on a "Grand Balkans tour" and visit all the listed destinations.
Bosnia and Herzegovina - The 1st country on this Balkans tour
If you go from Croatia to the south, BiH is the first country you will visit. Choose your destination depending on whether you want a sea or an inland vacation. Sarajevo's Baščaršija is a place you must not miss if you want to capture the spirit of this country. The city that connects the eastern and western world has a multitude of buildings and historic sites that you must visit. If you still want to head towards the sea and Neum, be sure to stop in Mostar. The town on the banks of the Neretva River is one of the sunniest in BiH. Mostar is best known for its Old Bridge and abounds in events and festivals. When you get to Neum, your vacation will cost you significantly less than a few kilometers north or south in Croatia. Coffee on the beach is around $1.5, a scoop of ice cream less than $1, and accommodations for the night may be already found at around $25.
Serbia
If you stay in central Bosnia and postpone your trip to the sea, Serbia is the next logical destination. Although it does not have a seacoast, the mountain Zlatibor improves its tourism offer every year, and more and more people choose the fresh mountain air instead of crowded beaches. This is a place where continental and Mediterranean climates meet, and next to Belgrade is the most visited destination in Serbia. In addition to clean air and beautiful nature, you can enjoy mountain biking, archery hunting, horseback riding, paragliding, and hiking ... If you do not like your vacations to be full of sports, you can also enjoy a rich nightlife with many clubs and restaurants and relax in wellness centers and saunas.
Whether you head to the mountains or to the sea on macadam roads, you can easily find a vehicle for yourself in ORYX Rent a car. Take your pick from a wide range of rental cars, from the smallest city cars to premium class vehicles. All vehicles are equipped with air conditioning, and there is also the possibility of renting a child seat, sophisticated GPS devices and Wi-Fi devices for mobile internet. You may also want to know that ORYX Rent a car won the 2021 Customer Favorite Award given by Rentalcars, one of the world's largest online car rental systems, for the sixth year in a row.
Macedonia
If you travel to Balkans, there is only one other country on this Balkans tour that has no access to the Adriatic Sea but should not be skipped - Macedonia. If you want a crazy night out, head to Gevgelija. This tourist spot is also called "Macedonian Las Vegas" because of its casinos, nightclubs, five-star hotels and exclusive entertainment. If you still miss the sea, head to Lake Ohrid. Its surface area of 358.2 square kilometers is irresistibly reminiscent of the sea, and together with the town of Ohrid it has been declared a World Heritage Site and is under the protection of UNESCO. Be sure to visit the Roman amphitheater and Samuel's fortress, and go on a boat trip. The most popular destination is the monastery of St. Naum (last place before the Albanian border).
Albania - The cheapest country on this Balkans tour
If you travel to Balkans, you should definitely visit Albania, which is a story unto itself. The newly discovered hit destination, where there are no summer crowds yet, is attracting more and more tourists. Miles of sandy beaches and extremely low prices are a good reason to visit this southernmost Adriatic destination. Great nightlife and clubs for those looking for fun, and quiet places for family vacations on the other hand, all this can be found in Albania and on its 400-kilometer-long coast. Prices for overnight stays are at least a quarter lower than in Croatia, and so are the prices in restaurants and of non-board offers. It is not negligible that the price of gasoline in July was below $1,5, while in Croatia it is slightly less than $2. The closest to us, and at the same time the most famous and attractive for holidays, is Durrës. Further south are the best spots for parties, such as Jale Beach, 200 km away from Durrës, while the most popular is Sarande Beach in the far south near the border with Greece. With more than 300 sunny days a year, it makes sense to focus on tourism, but this may be a disadvantage if you are looking for peace. Buildings with five or more floors are often stacked right next to the beach. That is why those who want a more serene vacation can always head to Ksamil at only a 15-minute drive away, a village where there are no hotels yet and everything is focused on family tourism. Numerous sandy beaches, crystal-clear sea, all within the Butrint National Park.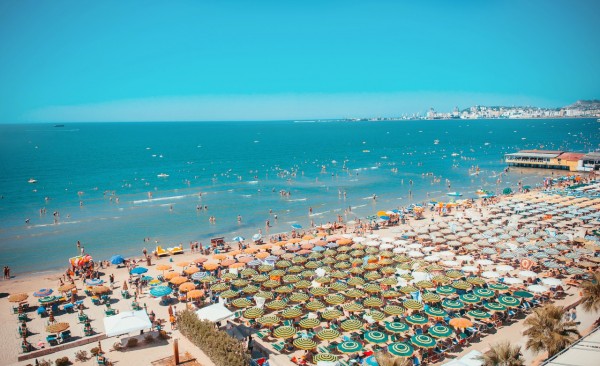 Montenegro - The last country on this Balkans tour
On the way back to Croatia, ending your Balkans tour, consider driving through Montenegro. Budva, Tivat, Bar, Ulcinj, Herceg Novi are already well-established tourist destinations. Prices are higher than in Albania but still acceptable. In Ulcinj, for example, the most expensive accommodation is offered right next to the beach and includes breakfast, and four people may share the cost of 100 euros. It is good to know that a bed can be found for as little as five euros. The closest to Croatia is Herceg Novi, which offers great clubs and beautiful beaches, and prices are up to 50 percent lower than in Dubrovnik, 50 kilometers away. Budva can also boast of top clubs, while if you want kilometers of endless pebble and sandy beaches, your destination is Ulcinj.